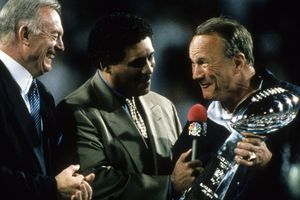 DeMarcus Ware followed my lead and moved to Denver. When healthy Sean Lee is unstoppable, but when he tore his ACL in minicamp I knew that this season was done. The defense is either walking wounded or on suspension. It is so bad that the NFL.com preview says it could go from "worse to collegiate."
The last time Dallas won a Super Bowl: I was in the 6th grade at a middle school in the Fort Worth suburbs.
In the years in between their playoff wins from 1996 to 2009 I graduated from high school, enlisted in the Navy as a nuclear mechanical operator and six years later received my honorable discharge from active duty, and when the Cowboys won their first playoff game in 13 years, I had completed three semesters of college.
I had a discussion with a Packers fan about the upcoming season. I came up with 10 things that will happen before the Cowboys win another Super Bowl:
10. A woman is elected President of The United States
9. My niece who turns 3 in November graduates from college.
8. I graduate from college.
7. "Next On Fox: The Series Finale of The Simpsons"
6. Democrats regain control of both chambers of Congress
5. A Democrat in Texas wins a statewide election
4. "Welcome To The Presidential Inauguration Of.... STEPHEN COLBERT!"
3. The second coming of Jesus
2. Bill Maher, Christopher Hitchens, and Ron Reagan say: "You know something? This atheism thing is bogus. We're going to become missionaries and preach the gospel in the Amazon."
1. A somewhat reasonable Republican who does not piss off the very diverse electorate is elected President of The United States.
We all know the issue with this team. It is the Owner/GM.
Dale Hansen is quoted in the article saying: "He has one of the most important jobs in all of American sports, maybe in the world: He is the general manager of the Dallas Cowboys. And based on his record, there is not a single team in the NFL, Major League Baseball, NBA or the NHL that would hire him to be their general manager. Hell, he couldn't get a job in Major League Soccer as the general manager."
I'd go one further. I wouldn't hire Owner Jones to run a high school athletic department.