Until I realized it was Fox.
Yes I have the picture that
a KVUE reporter took of me at the event while holding The White Board
. I bet there are a few pictures of me on twitter and facebook holding that white board as I held it up toward the Capitol and during the press conference. Again, that's not the point. There have been people at this longer than I have and I am a little late to the party. With "Don't Ask, Don't Tell" I showed up to help run up the score. Now with these issues, I am trying to help drive the ball down the field for the winning score.
The crowd was a who's-who in Texas LGBT Politics. I didn't register in time but I showed up anyways. Daniel Williams of Equality Texas told me to attach myself with any group since I probably know probably half of the people in the room. I chose to help advocate workplace non-discrimination policies because work and employment is important. I want people to feel safe and secure in their jobs and not be fired just because they're gay. (Hmmm... kinda sounds like "Don't Ask, Don't Tell")
I was in a group with two other Navy Veterans, a transwoman from Austin, and a gay man from the Corpus Christi Area. We went to various legislative offices to discuss these policies and how they impact us. The interactions with the legislators' staffs were very positive. They were receptive and willing to listen to us.
I'm not the only Straight Male who supports LGBT Rights. I'm probably one of the very view in that category that is willing to be vocal about it. As stated before many times over I have people near and dear to me who identify as such. I feel these folks are getting a raw deal in this country and it's just not right.
Take one Monica Roberts: she's an out and loud and proud black transwoman. Besides that about her, she's very well known in the LGBT community across the Lone Star State. I mentioned her name at this Lobby Day and everyone nods their head, "Oh, I know her. She's awesome!" We were bummed out that she missed this event, but she was making preps to deliver the keynote to the Black Transmen Inc. Conference in Dallas.
Oh and she would hunt me like a dog if I didn't mention that she's pretty damn good at picking football games (13 will be unlucky for you! I'm comin'!) and a very fierce fan of Houston sports teams. I swear if Houston had a minor league dodgeball team, she would cheer them on.
I also have my legacy to be concerned about. Yes, as I get closer to 30, I am concerned about my legacy. And it will not go away.
What I mean by that is that I have a niece.
She's 16 months old as of this posting.
Someday she will learn about various Civil Rights causes in our nation's history. She'll come across the chapter on Gay and Lesbian Equality and might see pictures like this...
Maybe my niece will ask:
"Uncle Michael, were you one of those people?"
I won't have to say that I stood in the way of progress and come up with some excuse that it was a different time and that's the way things were.
I also won't be saying that while other people did the heavy lifting, "I was shoveling shit in Louisiana" (that line is from Patton)
I can proudly show her this picture...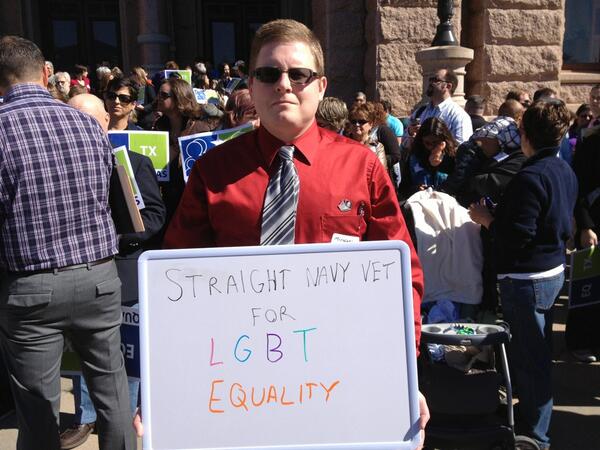 I also think about how we live in a small interconnected world. Maybe there is some kid in Middle-of-Nowhere, Texas who's gay and that kid is having a tough time and wonders if he will ever see if the world will change. He comes across that news story or the picture on twitter of me holding that white board with my writing and it suddenly revives his hope for a better world.
Or maybe it's a she... but you get what I am saying. I am letting that kid know that there are people out there fighting for their rights and doing their best to make it a better world for them so that they can use their energy to advocate for things like better schools, improved roads, an energy sector based in renewable sources, or whatever may come up in the future.
Plus I am shattering the stereotypes of Texans. We are not defined by folks like: Ted Cruz, Steve Stockman, Louie Gohmert, Dan Patrick (the legislator, not the former ESPN broadcaster who worked alongside with Keith Olbermann), Debbie Riddel, and Rick Perry. They represent a VERY limited world view of a VERY small minority of people.
I am willing to bet that Texans are more in agreement with folks like: Wendy Davis, the Castro Brothers of San Antonio, Leticia van de Putte, Mary Gonzalez, Lon Burnam, Ann Richards, Barbara Jordan, Lyndon & Lady Bird Johnson, and Sam Rayburn.
We're very proud of our state and all we ask is that you work hard and give it your all. If you need help, we'll be there for you.
We're also very family community oriented. When I was in the LGBT Lobby Day room, I shook hands and hugged some folks who were big in Texas LGBT Politics. It was like being at a big ole family reunion. My reason for being there is because I've said many times, "I'm in favor of LGBT Equality" in some shape and/or form.

Well.... prove it!
Again, to use something Monica points out many times in her blog (paraphrasing), "TBLG peeps are not limited to I-5, I-95, and the DC Beltway. They live along Interstates 15, 25, 35, 45, 55, 65, 75, and 85."
Well here in Texas I think we proved there are LGBT folks living in the big cities, suburbs, rural areas, and all corners of our state. There were some allies in the crowd too that made the trip down to Austin (like yours truly).
And we were in full force at LGBT Lobby Day last Monday.