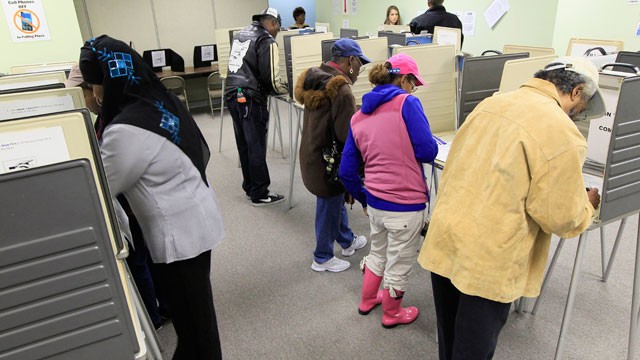 There are six down ballot race initiatives that I am following and I am also following elections here in my home state of Texas.
Yes I am aware of the whole argument about whether we should vote on people's civil rights. I don't like it one bit, but sadly we have to go through this asinine process.
Polling is showing in our favor in Minnesota, Maine, and Washington. Maryland… it's a statistical dead heat.
Here is what you need to root for on Election Night in regard to marriage equality efforts.
Yes is Good in Maine, Washington, and Maryland. No is Good in Minnesota.
The other two have to do with marijuana legalization efforts. In Colorado, which has become a boom for the medical pot industry, voters will determine this question:
"Shall there be an amendment to the Colorado constitution concerning marijuana, and, in connection therewith, providing for the regulation of marijuana; permitting a person twenty-one years of age or older to consume or possess limited amounts of marijuana; providing for the licensing of cultivation facilities, product manufacturing facilities, testing facilities, and retail stores; permitting local governments to regulate or prohibit such facilities; requiring the general assembly to enact an excise tax to be levied upon wholesale sales of marijuana; requiring that the first $40 million in revenue raised annually by such tax be credited to the public school capital construction assistance fund; and requiring the general assembly to enact legislation governing the cultivation, processing, and sale of industrial hemp?"
In English it translates to any resident 21 or over can legally be in possession of a limited amount of marijuana and said product is properly used, regulated, and taxed.
In Washington Initiative 502 (why don't they call it 420…? Snicker…) proposes that the state legalizes the production, possession, delivery and distribution of marijuana and regulate sale to persons 21 or over. Marijuana grow farms and food processors would be licensed by the Washington State Liquor Control Board.
Both show polling in support, but those are older polls, so the races for marijuana legalization might be tighter than expected.
For the record, I have never touched the stuff, don't care too; I simply ask that you don't smoke it around me and most people I know smoke it and are cool about my decision to be a square. I support the use for medicinal purposes and we can dive into the larger debate about how the continuing prosecution of marijuana as an illegal substance actually creates a burden on our strained judicial system and that it only benefits the Corporate Prison Industrial Complex.
One more thing I want to talk about and that is elections in Texas.
The polls in Texas close at 7PM LOCAL TIME. Texas is a weird state with a split closing time; where I live in North Texas, we close at 7PM Central Time and then for the folks that live in El Paso they close at 7PM Mountain Time. We're probably not going to see results for all races until the later closing time of 7PM Mountain which is 8PM Central.
The
Texas Tribune has an article of Texas elections
to follow. The US House race in
TX-23
features Rep. Quico Canseco (R) who pulled off an upset in the Tea Party led takeover of the Congress in 2010. His challenger is State Rep. Pete Gallego (D) of Alpine. The district stretches from the suburbs of San Antonio through Big Bend Country with the Rio Grande as its border and ends just east of El Paso. The district is
predominantly
Hispanic and is targeted by Democrats in their plans to get some seats back after that shellacking that took place in November 2010.
TX-14 was Ron Paul's district until he decided to retire to focus on a run for President in the gauntlet that was the Republican Primary. It could be a surprise pickup for Democrats as former US Rep. Nick Lampson is taking on State Rep. Randy Weber (R) of Pearland.
Former President Bill Clinton made appearances to rally the Gallego's and Lampson's campaigns recently.
The big one I am watching takes place not far from me. Senate District 10 is between incumbent State Senator Wendy Davis (D) and State Rep. Mark Shelton (R). If you recall Senator Davis's office was fire bombed by a not exactly stable person and she was interviewed by Rachel Maddow about the incident.
Davis is a fierce advocate for education and gained notoriety for filibustering purposed budget cuts to our public schools. Davis also stands up for Women's Health Care by leading the charge against the draconian and barbaric cuts that the State Legislature led by a supermajority control of Republicans in the State House.
This race has turned nasty where State Rep. Shelton accused the Senator of using her office for political gain and graft. WFAA-TV in the DFW Area rated those ads as FALSE. I have grown tired of Shelton's ads to the point where I want to hurl a brick through my television.
After I hurl a brick through the TV after the most recent Cowboys game…
I've met Senator Davis. She is a class act and she is willing to stand up for what is right in this state as Republicans pursue a more radical agenda that punishes Women, Minorities, and the Poor. Republicans tried to try to draw her out of her district in order to make it more favorable for their candidates, but thankfully the maps violated the Voting Rights Act. I voted for her in 2008. Sadly I couldn't vote for her in 2012, but I have an aunt that lives in her district that did vote for her re-election.
Looking forward to Election Night In America 2012.