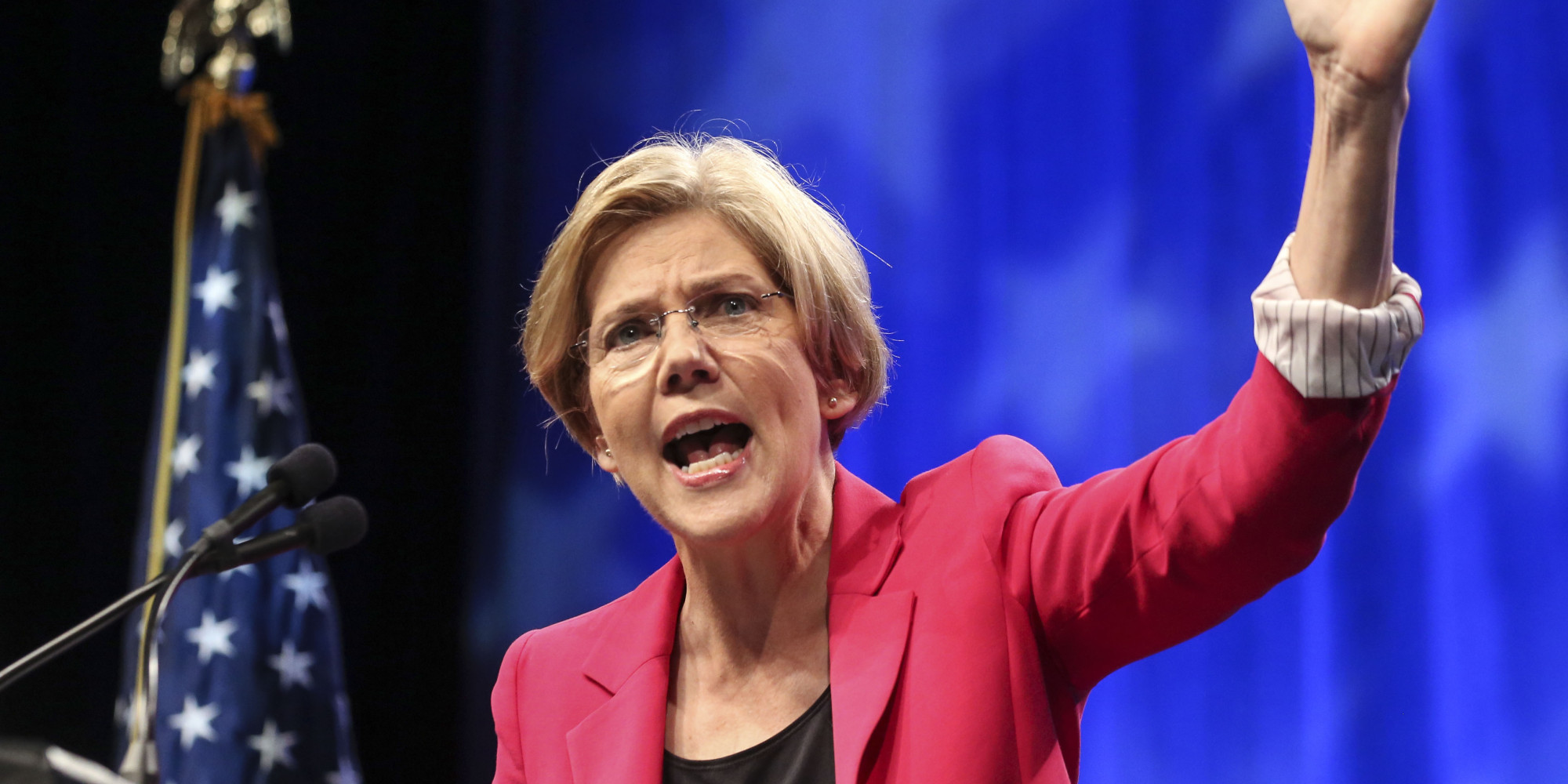 At first I was against the idea.
For starters Warren would be relegated to a position that Vice-President John Nance Garner once described his job as, "worth as much as a warm bucket of piss." The quote was later cleaned up to the less offensive warm bucket of spit. Garner called the newspaper editor who changed the line a pansy.
It was understandable why Garner, the first of three vice-presidents that served under Franklin Roosevelt, did not hold the vice-presidency in high regard. Garner was Speaker of the House when FDR added him to the 1932 Democratic ticket and he went from being the most powerful member of the Congress to holding the ceremonial title of president of the Senate, casting the rare tie-breaking vote in case the senate is divided, and essentially a place holder in case something horrible happened to FDR.
There is a good chance that Democrats could reclaim the senate this November. Democrats currently have 46 seats in the upper chamber, that includes the two independents – Angus King of Maine and Bernie Sanders of Vermont.
Since this is a presidential year with a term-limited president, the number to claim a majority is 51. Being down five seats is a daunting task, but the way the map is lined up this election cycle Democrats could make some considerable gains in addition to retaining the White House for at least another four years.
Florida, Illinois, Iowa, New Hampshire, Ohio, Pennsylvania, and Wisconsin elected (or in the case of Iowa, re-elected) Republican senators in 2010. However, those seven states went for Obama in 2008 and 2012.
The only serious seats that Democrats have to defend are Colorado – which the Republicans have gloriously screwed up by nominating El Paso County Commissioner Darryl Glenn and pretty much have given Michael Bennett an easy victory – and Nevada due to the retirement of Senator Harry Reid. Again, those two states went to Obama twice and have sizable Latino voting populations. I expect that due to Trump being at the top of the ticket there will be considerable turnout by this voting demographic that some reliably red states could be in play.
The Trump effect could impact senate races in red states. Arizona is one of those states that could be in play for both the presidential and senate race. Senator John McCain has to survive his Republican primary and then go against Representative Ann Kirkpatrick. McCain has said that he will endorse whoever is the Republican nominee.
Obama won North Carolina with a plurality in 2008 and lost the state in 2012 by a surprising margin of 2 points. Democrats are not just eying the state's 15 electoral votes, but the impact of Trump could impact Senator Richard Burr's re-election bid. The impact of North Carolina's anti-LGBT law signed by Governor Pat McCrory is also playing a role in the state being a key battleground.
And then there is Missouri. Remember four years ago when Claire McCaskill first ran ads in favor of one of the candidates in the Republican Primary and then the winner of that race uttered "legitimate rape" during a televised interview? Missouri is possibly in play with Secretary of State and Afghanistan War Veteran Jason Kander presumably facing off against
incumbent
Roy Blunt.
So under the best scenario not only do Democrats retain the White House with Hillary Clinton but also a full flip of the senate to a 55-45 advantage.
Senator Warren is currently on the Senate Committee on Banking, Housing, and Urban Affairs and is the ranking member on the Subcommittee on Economic Policy. If Democrats are in the majority, that means chairmanships (or in her case chairwomanship) on the various committees and subcommittees which also means dictating what bills are heard and sent to the senate floor for an official vote. Even though it would be likely that Ohio Senator Sherrod Brown would become the chairman of the Senate Banking Committee, it would not surprise me if her name was considered.
Losing Warren to the vice-presidency would lose someone who would be key in helping to shape a progressive agenda for the Hillary Clinton administration and also show a sharp contrast between the Senate controlled by Democrats and most likely a House remaining in Republican control with a smaller majority.
The other is that the seat occupied by Warren would immediately go the Republicans.
Warren would have to vacate her senate seat upon becoming vice-president and her replacement would be chosen by the governor of Massachusetts.
That was elected in 2014, one of the two Obama mid-term elections that not enough Democrats could not be bothered to show up and vote in.
The other strike against Warren is what does she add to the ticket. She is from Massachusetts, a relatively safe blue state. According to a Clinton vice-president short list comprised by both the Washington Post and Larry Sabato's Crystal Ball, Clinton has a selection of picks but each one has flaws too.
For starters, Kirsten Gillibrand is off because the Twelfth Amendment stipulates that the electors' choice for president and vice-president cannot be from the same state; Hillary Clinton is a New York resident and Gillibrand is a US Senator from that same state. There are some constitutional gymnastics on how this could work and it was a scenario explored under a Bush-Rubio ticket where the electors would cast their votes for Clinton to be president and risk the vice-president being selected in the senate. The same goes for former New York City Mayor Michael Bloomberg, current New York City Mayor Bill De Blasio, New York Governor Andrew Cuomo. Or anyone else from New York.
While California is a reliably blue state, Kamala Harris is off the list due to her current senate campaign.
Same goes for Illinois Congresswoman Tammy Duckworth who is attempting to reclaim a senate seat that is currently held by Republican Mark Kirk and was once occupied by Barack Obama.
Ohio Senator Sherrod Brown is rumored to be on the VP short list, but like Warren, his replacement would be chosen by a Republican governor and that replacement would have an advantage heading into the 2018 election running as an incumbent.
I doubt Senator Sanders would want to run as a unity ticket candidate. Also being named chair of the budget committee when the Democrats retake the senate is an opportunity not to pass up.
Colorado Governor John Hickenlooper's name has been floated around. He fulfills many pros - a governor from a state Clinton needs to carry in the general, he won re-election in 2014, was mayor of a large city (Denver), and as a brewer can supply the beer for the inaugural ball – but here are the cons: he is not well known outside of Colorado, his 2014 re-election win was a plurality, he would not excite the base, and the name "Frackenlooper" is a term of
derision
heard among far left Democratic circles in this state.
Those are also the problems facing Virginia Senators Mark Warner and Tim Kaine and Governor Terry McAuliffe. While adding one of the Virginia senators to the ticket assures that a Democrat would be replaced by a Democratic governor, again neither of them excite the base and Warner faced a tougher than expected re-election bid in 2014. 2016 could shape up to be another base style election much like what 2012 was. Like the Virginia senators, adding someone from another critical swing state would be ideal and McAuliffe would give his lieutenant governor an advantage heading into 2017 but his ties to the Clintons could be a negative.
Julian Castro was seen as a rising star after his 2012 keynote and subsequent appointment as HUD Secretary which was seen as VP grooming but since then the rumors have cooled about him being added to the ticket. For me, he is setting off Dan Quayle-like alarms.
Another Obama cabinet secretary that is receiving a lot of consideration is Labor Secretary Tom Perez. It would be wise to tap someone from the Obama administration because Obama's popularity has risen to about 50% according to the most recent tracking polls and is still very popular among Democrats. If it wasn't for that pesky 22nd Amendment, I bet Obama would run for a third term and beat Donald Trump comfortably.
And Perez and Castro might have to leave their posts in the Obama cabinet in order to campaign.
And given the current makeup of the senate, confirmation of a replacement would not happen.
If this was a normal election, Clinton would have probably match up against a Ted Cruz-Nikki Haley ticket (or a Cruz-Susan Martinez ticket). I know, in our timeline Cruz picked Carly Fiorina, but since Trump won the groups of voters that gravitated towards Cruz in the Republican primary it is likely that in the absence of Trump, Cruz would have won the nomination and not have had to make the Hail Mary play down by 35 points with 4 seconds remaining in the game of nominating Fiorina. Clinton certainly would have made the safe choice and would be applauded for doing so.
This is not a normal election due to the Trump-Pence ticket and especially with the nominee being Trump. Clinton needs someone who can be an attack dog on the stump as much as her other surrogates in President Obama, Vice-President Biden, her husband and former President Bill Clinton, and Senator Bernie Sanders. Elizabeth Warren has proven to be just as much as a that and more. She can matchup with Governor Pence during the only vice-presidential debate and also could heal the divide that exists between Clinton supporters and the few Sanders supporters who remain holdouts or contemplating support a third-party ticket.
This election is about being bold.
I've heard some people saying that the country is not ready to handle two women in the role of president and vice-president. Well… every POTUS-VPOTUS team has been two of the same gender so why not continue that tradition?
I will note that the decision is Hillary Clinton's alone, she has earned it, and I will respect it.
Senator Warren (confidently): Yes, I do.
And yes, I do believe that Senator Elizabeth Warren should be added to the ticket as Clinton's vice-president.