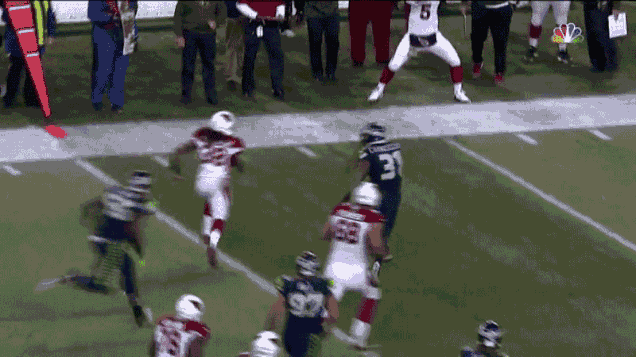 | | | | |
| --- | --- | --- | --- |
| | | | |
| | | | |
| | | | |
So this week's must watch games previews have a Simpsons quote attached to them.
"See, I told you Krusty would come. Just like I said! He's gonna bring us food, and water, and smite our enemies!"
"Old grey mare, she ain't what she used to be, ain't what she used to be, ain't what she used to be…"
"Can you throw a football? Become a New York Jet. Call 1-800-4NYJETS."
HOMER: This dinner has to go absolutely perfect if Grimey and me are going to be friends. (turns to Lisa) Lisa, be perfect.
HOMER: (to Marge) Marge. Perfect. (to Bart) Bart. Perfect. (to Maggie) Other kid. Perfect.
Raiders at Lions/49ers at Seahawks
"Well, I like the 49ers because they're pure of heart, Seattle because they've got something to prove, and the Raiders because they always cheat."
"Come on Bart! Remember what Vince Lombardi said: If you lose, you're out of the family!"
"Ladies and gentlemen, we've just lost the picture, but uh… what we've seen speaks for itself. The Corvair spacecraft has apparently been taken over – CONQUERED if you will – by a master race of giant space ants. It is difficult to tell from this vantage point whether they will consume the captive earth men or merely enslave them. One thing is for certain: there is no stopping them; the ants will soon be here."
Kickoff times are Mountain Time
Sunday afternoon games airing in Denver are noted by (DEN)
Picks are in BOLD
Browns, Giants, Saints, Steelers
Titans at Jaguars
Washington at Panthers
(DEN)
Buccaneers at Eagles
Rams at Ravens
Colts at Falcons
49ers at Seahawks
SUNDAY NIGHT, NBC 6:30 PM
Bengals at Cardinals
MONDAY NIGHT, ESPN 6:30 PM
Bills at Patriots
LISA: Can I watch football with you again next Sunday?
HOMER: Sure! You'll find it gets rid of the unpleasant aftertaste of church.